The advantages of the Orfix C-hook implant
1. Safe
Nitinol is a titanium alloy, the surface and corrosion properties of which resemble those of titanium. Thanks to the excellent biocompatibility of titanium and Nitinol implants, it is not always necessary to remove them, unlike steel implants. Implant removal operations and the pain and possible complications resulting from them can thus be avoided and cost savings achieved. Compared with dissolving fracture treatment materials, Nitinol has superior tissue tolerance.
2. Reliable
The implant reacts very accurately to changes in the external temperature, returning to its originally designed shape.
3. Practical
Simple surgical technique, instrumentation and selection of implant.
4. Speeds up recovery
The implant enables the use of the operated limb soon after operation, which makes recuperation faster.
5. Recudes complications
When the C-hook is used, the fastener does not penetrate the joint, which significantly decreases post-operation occurrences of joint injury.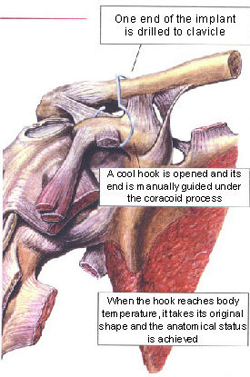 6. Shortens operation times
The simple surgical prodecure speeds up the surgery, lessens the patient's pain and is cost-effective.
7. Non-magnetic
Nitinol is non-magnetic and hence does not create problems in, for instance, magnetic resonance imaging, where steel implants can lead to highly dangerous situations. With Nitinol, magnetic resonance imaging can be carried out immediately after the operation.