<! -- kuvausteksti tai joku pätkä, joka tulee vasemmalle -->
About us
Orfix Ltd was established in 1994 in Raahe, Finland. It develops, manufactures and markets novel surgical implants for orthopaedics, traumalogy and hand surgery.
<! -- kuvalle tarkoitettu oikea palsta -->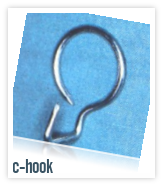 The C-hook is specially designed for acute acromioclavicular discolations. The easy insertion method decreases the required operation time. The C-hook allows early mobilisation and faster recovery after the operation. read more..
<! -- pikkunen söpö blokkaus -->
Implants
The implants are designed to ease surgical operations and to gain better results for patients. The company specialises in developing medical equipment and implants for the metallic biomaterial Nitinol, a nickel-titanium alloy with a unique thermal shape memory, superelasticity and high damping properties. These characteristics of Nitinol are vital when special solutions for special surgical cases are needed.


Distributor
Orfix Ltd is currently seeking a distributor for the EU market.
Other kinds of partnership in marketing are also welcome. In addition, collaboration with a bulk producer capable of providing very high quality Nitinol would also be a desirable opportunity.


© 2005-2006 Orfix Ltd. Lasse Laukka & Jussi Niemelä
Smitinkatu 2 92100 Raahe, Finland - Phone: +358 40 827 6907 - Mail: orfix(at)
orfix.fi
-
Up